A couple miles down the old highway from us, an osprey has a nest. Unfortunately, a 200mm zoom on a digital SLR (roughly equivalent to a 300mm zoom on a 35mm film camera) really isn't quite enough--I should probably either buy the 1.4x teleconverter, or a longer lens. As a result, these pictures aren't great, but give you some idea of the cute little baby ospreys as they grow.

Click to enlarge
Here is a couple of weeks later. Mom is no longer in the nest. Instead, she was some distance away, screeching up a storm to distract us from her babies. (We weren't very close, as this picture shows--but mother birds, like human mothers, are pretty insistent about protecting their young.)

Click to enlarge
And here's a Western Tanager--we have a lot of them around the house, although this one was near the osprey nest. Again, it's a tiny but intensely colored bird, and I need a longer zoom!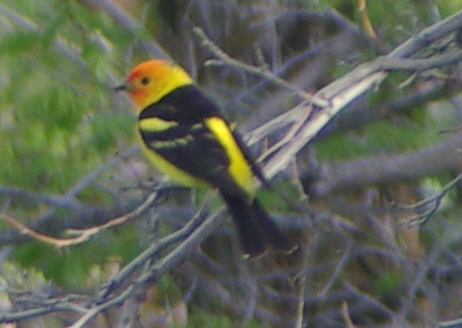 UPDATE: My wife informs me that closer examination of Mom says that these are red-tailed hawks--not ospreys.